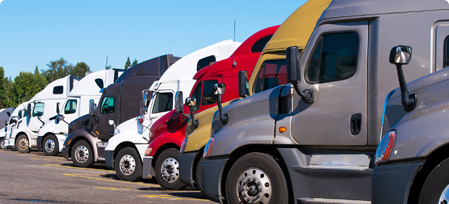 Trucking Insurance: What Is It and Why Do You Need It
02.16.2022
What Is Trucking Insurance and Why Do You Need It?
As an owner-operator or a fleet manager, getting your truck(s) on the road means getting the right trucking insurance in place. Otherwise known as commercial truck insurance, this set of coverages provides the protection you need to run your trucks confidently and with peace of mind – no matter what happens. Here is a look at the basics of trucking insurance to help you get started on finding the best coverage for your needs.
Trucking Insurance: An Overview
Just as you need auto insurance to protect you and others in the event of an accident while driving your car, you need commercial truck insurance to protect your business, your drivers, and others in the case of an accident while your vehicles are on the road. Trucking insurance provides a set of coverages tailored to the needs of the trucking industry.
With the average cost of a truck accident sitting at $148,279, trucking insurance can mean the difference between surviving an accident and needing to close down your operations. No one should run trucks without proper coverage against any situation their trucks and drivers may encounter on the road.
This type of insurance is more than just a business-saving idea, however: It is a requirement for anyone who wants to operate one or more trucks. The Federal Motor Carrier Safety Administration (FMCSA) requires drivers to possess at least primary liability coverage in order to get their trucking license. This organization may also require additional types of insurance for your organization (e.g. General liability insurance).
However, there are many types of coverages from which you can choose, and they are not all required by the FMCSA. Understanding these coverages, and choosing the right ones for you and your business, is an important part of keeping your trucks, drivers, and cargo safe.
Types of Trucking Insurance
The first step in choosing the right commercial truck insurance for your needs is to understand the available coverages so you can put together the policies that will appropriately protect your trucking operation. Here is a look at some of the most common coverages you can choose:
Primary Liability Coverage
This type of coverage is usually required by the FMCSA as part of your and your drivers' truck license requirements. It covers any property damage or injury that occurs to others as the result of an accident in which you or your drivers are at fault. The goal of this type of trucking insurance is to protect third parties while your truck is on the road.
General Liability Coverage
General liability coverage is a broader type of coverage that is often also required before you can take your truck(s) out. It covers accidents and injuries that occur while your truck is off the road. For example, an accident while your truck is unloading in a truck yard would be covered by general liability. This type of coverage also protects you in a number of other scenarios, including the following:
Bodily injury, including accidents such as slipping and falling on your property
Libel or slander lawsuits
False advertising claims
Damage at a site not your own
Delivery to a wrong address
Property damage at your site or another site
Physical Damage Coverage
Physical damage coverage will help pay for damage to your commercial vehicles caused by a variety of issues that go beyond accidents. It will also pay to replace your truck(s) if they are totaled. Get this coverage for protection against any of the following:
Vandalism
Natural disasters
Theft
Collision
Accidents
Motor Truck Cargo Insurance
This coverage will compensate you in the event that you suffer loss or damage to the cargo your truck(s) is transporting.
Bobtail Coverage
Driving a truck without a trailer is called bobtailing. Bobtail coverage protects your commercial truck whenever it is being used apart from a job. For example, it will cover accidents caused while a driver is operating it for personal use or it is being driven back after dropping off cargo.
Reefer Breakdown Coverage
A refrigerated truck, also called a reefer, has its own insurance needs. Reefer breakdown coverage will help to compensate you for the loss experienced if your refrigerated truck breaks down. Its coverage includes any loss or damage to the contents of the truck.
Uninsured/Underinsured Motorist Coverage
This type of coverage protects you in the event of an accident where an uninsured or underinsured motorist is at fault. This coverage will compensate you for the costs you incur as a result of the third party's lack of insurance.
Factors Affecting Trucking Insurance Premiums
When purchasing commercial truck insurance, you need to be aware of two terms: Premiums and deductibles. A premium is the price you pay for your insurance. A deductible is the amount of money you have to pay to cover expenses from an accident before the insurance coverage kicks in.
There are many factors that affect your premiums. Here is a look at some of the most important:
Age of your drivers
Your drivers' driving records
Age and condition of your vehicles
Cargo and use of your trucks
State and federal requirements
Distance your trucks travel
How To Choose Trucking Insurance
With so many coverages from which to choose, it can feel a little overwhelming to select the set that will best fit your needs. However, narrowing down your choices to the ones that offer all the coverage you require, and none of the coverage that you do not, is important to keep your insurance premiums affordable.
In order to navigate the many factors that can affect your trucking insurance coverage and premiums, you may need professional assistance. In order to get the best coverage at the best price, you need RoadMasters. We offer an alternative to skyrocketing premiums, fine-print exclusions, and time-consuming searches. Instead, we provide fast, free quotes and coverage in as little as 24 hours so you can enjoy an effortless, and affordable, insurance experience. Save an average of $3,000 per truck per year and get exactly the commercial truck insurance you need by contacting us today for your free quote!